The next step was to get the engine fitted and the various bits of the drive train sorted out, not an altogether easy task, a 1300 X-flow is heavy!
Click on the small pix to get a larger view (I hope)
Still here are the photos to prove that I did get it done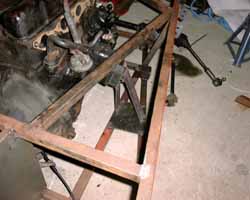 Engine mounts various views.
Prop shaft in situ, made from the front and rear UJs and a length of 3mm wall tubing, slightly over size, as it was the only size I could get, the 16SWG was too small or far to big, and so had to make do with what I could get. Welded joints with the welder set to Max, wow what a lot of spark 130A or so makes!!!
Prop-shaft various views
I also put the brake line in on the back axle, just to see how easy the stuff was to work with.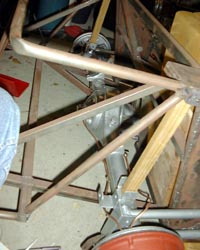 Brake line in on the rear axle.
The next job is to try to get the scuttle finished (half way there) and get a pedal box and steering sorted out.