Well hi all, how was your Easter week end?, me I planned on the weather being lousy - it's what they said, and what happened here on the Norfolk Suffolk borders? Warm sunny and clear skies, I should have been getting in some revision for my flying exams, but!! as the weather was good the instructor was busy and.. Mind you I did see a fly past of a lone spitfire on the Sunday - that sound makes the hairs on the back of my neck go up!
Here are the pictures of the result, from the last page you can see I got the bonnet cut and folded etc. not as good a fit as I would like but I've still got the template. I worked on the catches and here is the result:
These come in a left and a right handed version and I've put a right and a left on each side (should stop it coming off - I hope) I've had to make spacers out of Ali and threaded some holes to bolt the catches to, the blocks are held onto the sheet with self taps, will also apply some good glue when I do it for real.
The other job was the back panel, I had a whole sheet of Ali spare when I started the day (and hoped there would be more than enough for another bonnet but having cut the rear panel out I can reclad the sides but not a bonnet Oh well, it will do until I can organize another sheet of Ali (32UKP each)
This is the panel, don't look too bad until you look at the corners, they look worse on the photo!, I guess I should have annealed the ali, but as you see it still has it's protective sheet on and to anneal it I would have to have exposed it to scratches. It had tidied up a bit with judicious use of a block of wood and a hammer.
I also put the filler cap on: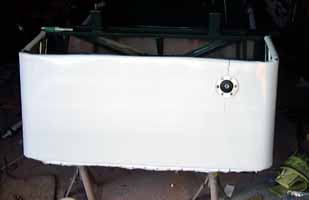 Well all for now, back to the top, back to the index page or email me.